On July 1st, 2015 Baltic Stated joined District 95 and Finland formed with and Baltic States a new Division Division K with three areas.
Division Director: David Gelkin
Area K1 Director: Oscar Santolalla
Area K2 Director: Gabriela Roivainen
Area K3 Director: Vanda Dauksta
Area K1 & K2 Fall Conference at Harakkasaari, Helsinki
Humorous Speech Contest winners
Area K1: Nando Miranda
Area K2: David Domingues
Table Topics Contest winners:
Area K1: Nando Miranda
Area K2: David Domingues
Division K Fall Conference in Tallinn, Estonia
The first Division K conference was held in Tallinn, Estonia with a special guest and keynote speaker: Ted Cocran, Past International President. Area Contest winners competed for a place at District 95 semi-finals.
Humorous Speech Contest
1st David Domingues, home club Virtual Speakers
Table Topics Contest
1st Nando Miranda, home club Stadi Talkers.
At District Conference in Prague Nando placed on third place!
Area K1 & K2 Spring Conference, in Espoo Helsinki
International Speech Contest:
Area K1 1st. Pekka Kanerva, 2nd Juuso Nykänen
Area K2 1st Adriana Vasilache, 2nd Ekaterina Ignatyeva
Evaluation Contest
Area K1: 1st Margareta Muru, 2nd Irina Gerhman
Area K2: 1st Ekaterian Ignatyeva, 2nd Adrian Imre
Division K Spring Conference in Riga, Latvia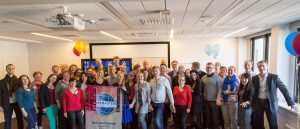 Division K Spring Conference was held at Microsoft premises in Riga, Latvia. The keynote speaker was easy-speak guru Bill Monsour from District 59.
International Speech Contest:
1st. Pekka Kanerva,
2nd Simonas Jakubauskas
3rd Adriana Vasilache
Evaluation Contest
1st Greta Slauciunaite,
2nd Ekaterian Ignatyeva,
3rd Irina Gerhman